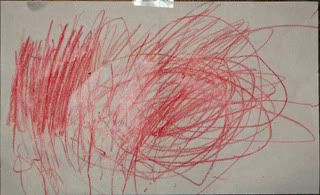 Me:
Did you have fun in preschool today?
Bubs
: Yes.
Me
: Did you make a project?
Bubs
: Yes.
Me
: What did you make?
Bubs:
Something beautiful
Me:
Oh, yes, what did you use to create this beautiful something? Paint, Markers?
Bubs
: Crayon
Me
: (fumbling through the pile of papers on the front seat of the car and locating said 'something beautiful) Oh, you are right, this is beautiful. What did you draw here?
Bubs
: A lamprey eel.
Me
: Oh, of course, of course it is a lamprey eel.