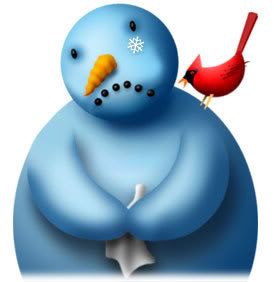 My son has been kind of tantrumy lately. It is a big source of worry for me. Yesterday afternoon bubs came home from school (he didn't earn his reinforcer from preschool) and he decided he wanted to go outside and jump on the trampoline. It was freezing out. So we said no and of course the screaming and yelling began. My husband was going outside to finally switch the autumn flag out for the winter flag (I am a seasonal decorating nazi) and he asked bubs if he wanted to come out and help. He said yes and then we had some more behavior. He wanted to wear my crocs outside and kept insisting they were his. Then came the gloves. He wouldn't put them on. I finally got him to concede and he was so uncooperative, I was starting to get scared that he didn't understand the concept of 'gloves', with each finger having a home. Ok, we got through all of that-barely, but he went out somewhat bundled up. Within the next two minutes I hear blood curdling screams. I open the door and my bubs is having a near nervous breakdown over the flag. It seems he doesn't want the new flag. He wants the old one up. Now mind you, the flag was never spoken about before in any way shape or form. No mention of a flag ever. We have had them up since we have been at this house and changed them according to the seasons. Screams. We get the screamer inside lest someone decide to call child protective services on us. My husband makes the mistake of coming in the house with the old flag. Bubs is just beside himself. Of course I am starting to get really worried and all of those familiar 'dark thoughts' come sneaking in the back door of my soul. Let's say I am now perseverating on the perseverations.
Someone else needs to explain to my dear husband that the time to explain the changing of the seasons to a four year old is NOT when he is writhing on the floor screaming in frustration. Chances are, the concept is not going to 'stick'. I do my best to 'planned ignore' the behavior, while being a loving mom at the same time. I am not sure it worked. Bubs carried on for over 45 minutes, the whole time I am hearing phantom sound bytes of 'typical for a child on the spectrum.....'controlling behavior'....'fixations on unusual items'.... yada yada yada ...don't stop worrying about this shit ever....
I went into the kitchen to finish 'cooking' bubs' beloved dinosaur chicken nugget bites and he came in and in the last futile attempts at anger said 'I am mad, mommy... winter is terrible to me... terrible to me!' . It was as if he was summoning up the worst word he had in him (by some miracle of god he hasn't started cursing yet!). I never heard him say the word 'terrible'. He then asked me if we could put the old flag up later. Ahhh, the proverbial 'later', got to love the vagueness of that. 'Sure', I said, 'We will put it back up later' (and I had my fingers crossed that he would forget about it). He happily skipped away and crisis over, for now.